Rd 19 - Gliderol Stadium

CROWD

,
TEMP

16 C

SKY

Clear

WIND

Slight
| | | | | | | |
| --- | --- | --- | --- | --- | --- | --- |
| | GLENELG | 8 - 1 | 12 - 1 | 18 - 3 | 21 - 6 | (132) |
| | Sturt | 6 - 2 | 10 - 5 | 12 - 7 | 18 - 11 | (119) |
| | |
| --- | --- |
| GOAL KICKERS | BEST PLAYERS |
| Kirk, Trenbath 4; Kirkby, A.Grima 3; B.Kane, Tenace 2; Kennedy, Ruwoldt, Douglas 1. | - |
---
COMMENTS
The Tigers have defeated the Double Blues by 13 points in a shoot out at the Bay. Fourteen goals were kicked in a blistering first quarter.

Glenelg appeared to be cruising to victory at three quarter with a 32 point advatange but survived a late scare. Sturt clawed their way back to trail by 7 points at the 26th minute mark of the final term before Ruory Kirkby sealed the win with his third goal.

Best on ground Richard Douglas and leading goal kicker Daniel Kirk (4 goals) helped to make Trevor Cranston a winner in his 150th game.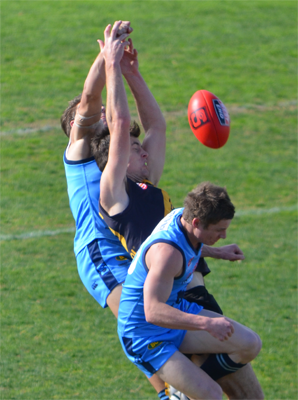 ---
GLENELG

STURT
KICKS

207

173

MARKS

103

75

HANDBALLS

144

156

F/FOR

20

12

HITOUTS

37

32

TACKLES

40

51
SCORING ACCURACY
%
%
GOALS FROM SET
SHOTS
%
%

BIGGEST LEAD

33 (3rd Quarter)

4 pts (2nd Quarter)
TOTAL

MARKS

Tenace

30

B.Kane

11

Douglas

26

Kirk

9

B.Kane

26

Kirkby

8
---
1st
QUARTER (31m)
GOALS
MARGINS (Pts)
4
A.Grima
7
5
Tenace
13
7
Sturt (M)
7

9
Trenbath (F)
13

11
B.Kane (M)
19

12
Trenbath (M)
25

14
Sturt (M)
19
17
Sturt (M)
13
21
A.Grima (M)
19
23
Kennedy
25
24
Sturt (M)
18
26
Sturt (M)
12
29
Kirkby (M)
17
31
Sturt (F)
11

---

2nd
QUARTER (27m)
1
Kirkby (F)
17

3
Sturt
11

8
Sturt (M)
3
16
Sturt (F)
4

18
Trenbath (M)
2
20
Sturt
4

24
Kirk (M)
2
26
Kirk (M)
8

---

3rd
QUARTER (35m)
1
Sturt
2
4
Kirk (F)
8

7
Kirk (M)
14

15
Ruwoldt (FPP)
21

18
A.Grima (F)
27

20
B.Kane (M)
33

27
Sturt
27

29
Trenbath (M)
33

---

4th
QUARTER (29m)
1
Sturt
26

9
Tenace (M)
32
12
Sturt (M)
25

14
Sturt
18
20
Douglas (M)
25
21
Sturt (M)
19
24
Sturt (M)
13
26
Sturt (M)
7
28
Kirkby (M)
13
---
| | | | |
| --- | --- | --- | --- |
| F | | | |
| HF | | | |
| C | | | |
| HB | | | |
| B | | | |
| R | | | |
| | | | |
| Int | | | |

OTHER GRADES
Reserves
Glenelg 76
Sturt 78
Under 18
Glenelg
Sturt

NEXT GAME
Eagles (H)