| | | |
| --- | --- | --- |
| | 12-13 | (85) |
| | 18-15 | (123) |

| | | |
| --- | --- | --- |
| | Norwood | 38 |
| | Central District | 28 |
| | Eagles | 26 |
| | GLENELG | 19 |
| | Panthers | 17 |
| | | |
| | Port | 16 |
| | West Adelaide | 16 |
| | North Adelaide | 14 |
| | Sturt | 10 |
| | | |
| --- | --- | --- |
| | R.Kirkby | 20 |
| | T.Grima | 11 |



FINALS WEEK 1



TEAM: ELIMINATION FINAL v PANTHERS (17/9/11)

IN: Allen, Adlington, Rudolph, Murphy
OUT: K.Cornes, Murdoch, Clayfield, Bradley

| | | | |
| --- | --- | --- | --- |
| F | | | |
| HF | | | |
| C | | | |
| HB | | | |
| B | | | |
| R | | | |
| | | | |
| Int | | | |
Previous Results:
Round 10: Draw, 106- 106 (Away)
Round 18: Panthers by 41 pts, 55-96 (Home)
UNDER 18's: QUALIFYING FINAL v NORWOOD
---
ROUND 21 v WEST ADELAIDE (26/8/11)
Glenelg have rebounded after last week's drubbing to defeat West Adelaide by 12 points. Alex Grima, Louis Hender and Daniel Kirk led the way when it mattered to deliver the victory. The Tigers have now secured a September berth, their fifth in a row.

---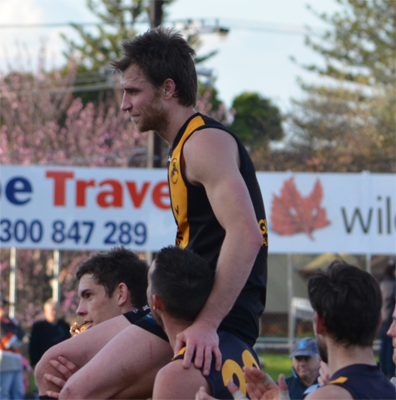 Trevor Cranston played his 150th game against Sturt in round 19
---
Elimination Final, 18/9/11
Glenelg
Panthers
AAIMI
| | |
| --- | --- |
| Total | 5,528 |
| Home | 5,357 |
| Away | 5.614 |